While being a mother, working as a cake artist, an entrepreneur, and a Certified Master & Trainer, Datin Azrene has worked with numerous body types and figure challenges over the last 15 years of her career. The founder of a fashion brand, Three Little Ahmads, she has given her attention and voice in adopting and adapting technology in the local fashion industry. What are her views on the fashion industry's future at this time of massive changes worldwide?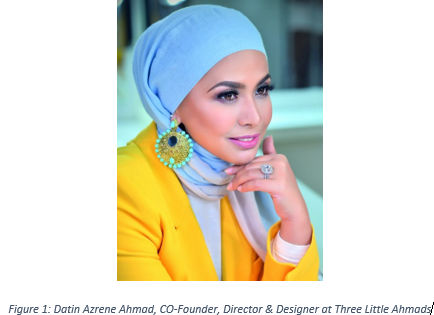 The pandemic has pressured us to change the way we work, banning travel, halting education, and reprogramming events of all kinds, change the way we think and decision-making on uncertain things, from health to finance. All sectors, including fashion brands, must have the ability to see the world in new ways to fulfill consumers' needs and expectations during this difficult time.Advertisement
In the fashion industry, what role can it play as we adapt to a new way of life?
As for Three Little Ahmads, Datin Azreen had collaborated with NanoTextile Sdn Bhd (NTSB) in producing the anti-bacterial reusable cloth facemask for Volvo Malaysia as an initiative in helping single and stay-at-home mothers and GIAT Mara graduates as cutter and sewers to help them earn an income during this phase.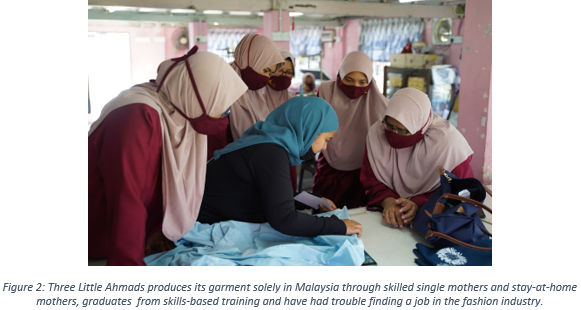 Forefront in fashion
Three Little Ahmads studied that people had a few concerns when wearing a medical face mask such as allergic reaction and sizing, which they had think up with a reusable facemask to address this problem. They are made up of 100% cotton, waterproof, washable, breathable, and yet comfortable and soft at the same time. The five layers of protection use PM 2.5 filter, which tested to be 90% effective in viral particle filtration, with four different sizing (S to XL). The revolutionary fabrics used are embedded with nanotechnology, known for anti-bacterial, hydrophobic, and self-cleaning features on the layer inside and outside of the mask. It allows for bacterial and viral protection up to 100 washes, makes their reusable facemask a lot more unique and functional, is less taxing on the environment, and is highly protected.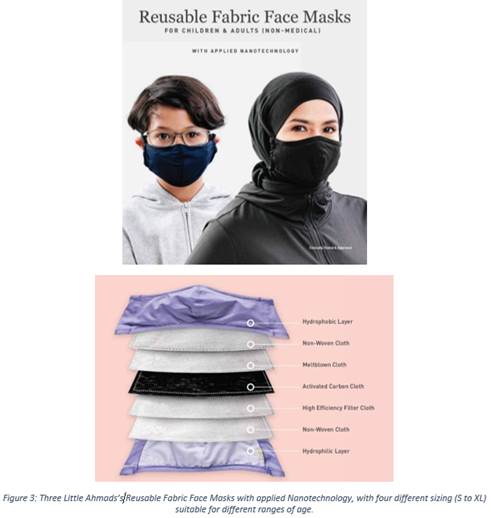 Three Little Ahmads was founded in 2017 and is always a front runner in terms of design, fabrics, and technology used, which is well known for its functional and sustainable clothing for children and the differently-abled. "It will always be our intention. Everything that we produce is the best of the best, that will reflect the premium pricing," said her. NanoTextile Sdn Bhd is Malaysia's first and only nanotechnology service and consultancy provider in this project, boosting the value of Three Little Ahmad's face mask products. NanoTextile's technology is used in various textile industries, including healthcare, industrial, and consumer applications, and clothing such as Muslimah wear, kidswear, undergarments, and more.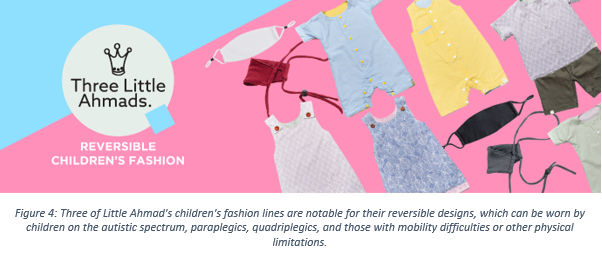 NanoTextile is now focusing on expanding towards sustainability, remains the catalyst to enable the clothing or textile industries and other segments to move the industry in an upward direction of the value chain. They recently made one step ahead by collaborating with the local fashion brand in growing awareness among consumers, which will become essential for textile companies to maintain and set high standards in their products. Surprisingly, nanotechnology has made its way into the fashion industry in Malaysia, as many have begun to take a pioneering turn in experimenting with the technology.
Datin Azrene had always been visioning about comfort, protection, anti-bacterial as special children used their products. "It is crucial to ensure that there are no bacteria on the fabrics while using the softest fabrics, which nanotechnology allows us to do that." After some research, her friend introduced her to Dr. Thomas, the CEO of NanoTextile. "I am excited for local promotion, talent, skills, and technology which I think that if we collaborate, there will be so much better things, rather than opting for the technology from the U.S, which involves higher cost." With their innovative design and the fact that they impregnated the nanotechnology in their products, they were recognized as a technologically forward company and won the MYR500,000 grant offered by The Malaysian Government Entrepreneurs Agency, Teraju, in 2019 under the Social Enterprise and Technology Category.
With the groundbreaking move of Three Little Ahmads, NanoTextile has synergistically moved to transform Malaysia's fashion industry into a tech-savvy one, that will open so many possibilities in the future.
How nanotechnology in textiles helps to ensure a better world?
"The fact that we have combined our products with nanotechnology means that our product contributes to the environmental sustainability. In a sense, all the textiles and threads that we used increases the mileage of that products. Our products can be a longer time, and we are promoting sustainable fashion as a post-fast fashion."
When approaching "sustainable," we must address economic needs, human safety, and environmental conservation. In a sector that is still dynamic, sustainability requires extra creativity and ingenuity. How can we make materials safer for people? How can we make the material last longer? How can we minimize waste? These are a few good driving questions towards sustainability.
"Now, with sustainability programs, we should be looking at the values, using technologically advanced and longer-lasting fabrics. We need to ensure that the fabrics are always re-energized. In this phase, it is crucial to focused on terms of hygiene." Nanotechnology does not alter the structure or construction of the original fabrics, but it increases the value and quality of the consumers. Without quality, there can be no sustainability.
Will nanotechnology become a source of hope for the fashion industry, making the path to sustainability for the next generation?
As voiced out by Datin Azreen urging local fashion brands to adopt and adapting nanotechnology in the industry, "We should always be the forefront of this, as fashion should always be longer-lasting. We should always be looking at putting fashion with technology in a way that promotes sustainability. I think adopting nanotechnology in fashion is a good thing, which is every fashion brand need to do."
Aligned with the idea of the circular economy, endorsed by the EU, this new economic
model advocates for the cyclical use of resources, minimizing waste, and reducing carbon emissions for the sake of the environment. However, the sustainable future envisioned by the CEO of NanoTextile, Dr. Thomas, highlighted that nanotechnology does not lead to sustainability as a whole. It supports the movement in the processing part by providing the technology in working toward a single vision, a path contributing to sustainability.
The textile and apparel industries' ability to tackle the obstacles posed by the COVID-19 pandemic.
"As retail, textile, and fashion industry what challenged us now that it is tough for us to have a physical presence. You can see some fashion businesses in Malaysia and all over the world are shutting down. They are not able to pay fashion designers. So, now fashion designers need to ensure that whatever they are producing is no longer fancy because people will not be going out. Your design and fabrics must be multi-functional and able to stand for a long time. The quality of the end-product should be outnumbered quantity. At this time, more people will be shopping online, and they will not be able to inspect the cloth they buy. As a fashion brand, you need to put forward is quality, and you should value the technology from now."
In the Fashion segment in Malaysia, 20% of total market revenue through online sales by 2023 will be generated. The pandemic has sped up the growth; however, we never had to be as ready to evolve and react to a new norm in the past centuries. The world is shifting; we should stay ahead of it, whether we wear only clothes. In order to chart a future direction in these trying times, the fashion industry must work with technology.
Our tomorrow
"I hope people can see the extra additional values of this for the next 10 to 20 years to come. And I hope the nanotechnology approach can be so accepted where it becomes the norm, to the point that it is affordable. It is available to every single consumer and item that we produce or buy. Hopefully, with nanotechnology, it allows us to be able to be more environmental-friendly, sustainable via its features such as durability, anti-viral, breathable, water-repellent, waterproof, and many more."
By Just-style.com, the latest data showed that to maintain strong growth and keep pace with substantially lower-cost competition across Asia, Malaysia's textile and apparel industry should concentrate on three main areas – higher-value fashion, dyeing and finishing, and technical textiles. We can foresee that the industry will potentially develop functional and high-value fabrics and clothing, which require nanotechnology. All in all, nanotechnology should start to be adopted and adapted in all industries as more immense opportunities are found in apparel, medical, automotive, sportswear, and construction. At the same time, businesses should make advantage of the technology and talents that the community has to offer.
Article Link: Forefront In Fashion-Three Little Ahmads adopting and adapting Nanotechnology