On 11th October 2022, Taylor's University and NanoTextile Sdn Bhd signed a memorandum of understanding (MOU) in harnessing the power of innovation, practical fashion design, and cross-sector collaboration, witnessed by Prof. Dr. David Asirvatham, Executive Dean Faculty of Innovation and Technology, Taylor's University, Dr. Thomas, CEO of NanoTextile, Ts Dr. Pouline Koh, The Head of School of the Design School and Puan Rasta Rashid, President of Malaysian Bumiputra Designers Association (MBDA) and the Founder of Rasta Creation and Batek by Rasta Rashid.
Through this partnership, Taylor's University and NanoTextile will collaborate to fuse the fashion co-working space into an ethical museum that highlights how the industry is dynamic and ever-evolving. This idea was motivated by the Fashion for Good Museum in Amsterdam, which compellingly engages and educates visitors about fashion's social and environmental impacts.
The interactive and compelling features in Fashion for Good Museum, Amsterdam. Source: Fashion for Good
Dr. Thomas, the CEO of NanoTextile, said, "We are constantly looking for opportunities to push sustainability forward in the fashion industry. We are so inspired by the Fashion for Good Museum in Amsterdam. It educates visitors about fashion's social and environmental impacts in a compelling way. Still, the focus is on real, accessible ways everyone can make a positive impact and commit to taking action. We need to start a revolution in the fashion industry."
Fashion for Good (FFG) is a global initiative supported by big brands such as Laudes Foundation, Adidas, Zalando SE, and Inditex to encourage the transition to safe, circular fashion industry. Since FFG's founding in 2017, the Accelerator program has chosen ten to fifteen innovative start-ups to provide office space, mentorships, and connections to their investor network collaboration, enabling the invention and adoption of good fashion practices.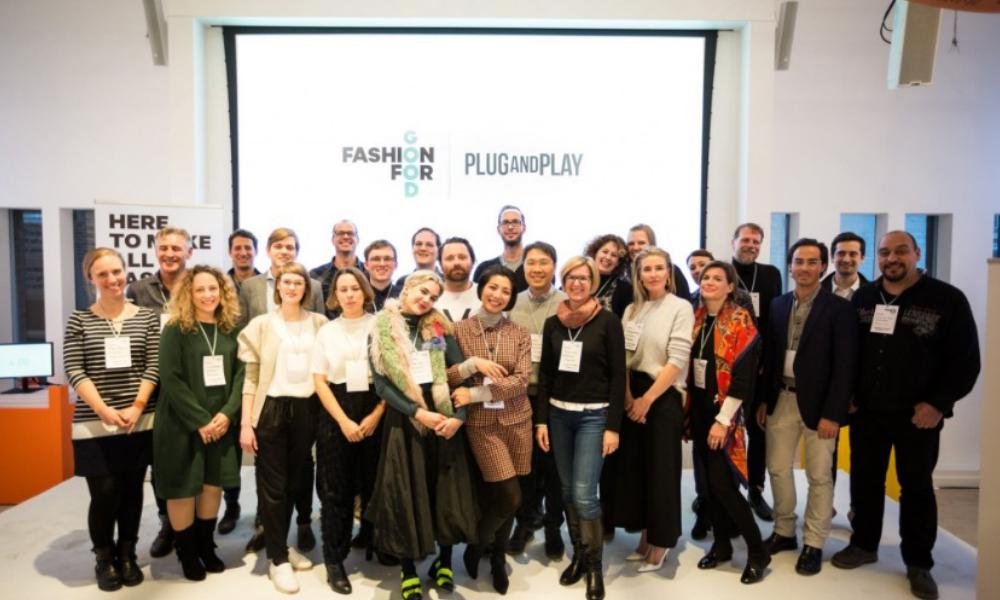 In April 2021, NanoTextile participated and was given a chance amongst 21 companies worldwide to pitch in the Selection Day of Fashion for Good South Asia Innovation Programme (Batch 3). At NanoTextile, they want to take their approach to sustainability very seriously as they know more work is to be done.
Sustainability arises in this industry because of its social and environmental impacts. As stated by McKinsey Foundation, the fashion industry uses 93 billion cubic meters of water, which can meet the needs of five million people, emits 4 percent of Greenhouse Gas (GHG), and releases 500,000 tons of microfibers into the ocean each year from washing clothes. And the list goes on and on. Hence, NanoTextile believes this is the time to consolidate its mission for circularity across all the local brands to reduce waste in landfills by increasing textiles' functionality and longevity.
"NanoTextile's mission is to constantly be exploring innovative ways in the textile sustainability journey and setting a new standard for brands, especially in Malaysia. But we can't do this alone. We are, therefore, very excited about being part of Taylor's. Together, we can launch and expand the upcoming wave of circular technologies and influence the fashion industry."
Dr. Thomas, a young sustainability enthusiast towards Circular Economy. Under his tenure in NanoTextile Sdn Bhd for over 5 years, the company has become the pioneer executive leadership towards a textile technology and innovation start-up to now an established company.
Launched in 2015, NanoTextile unifies the efforts of innovators, fashion businesses, and public-private educators in spreading awareness on the value of garments. Using zero-toxic and water-based nanomaterial, NanoTextile's clients can have assurance in the solutions to their existing products. Since its inception, NanoTextile's technology has grown to over six series, including Hygienic, Care, Comfort, Protection, Premium, and Advanced. Cut across segments including Home, Industrial, Medical, Automotive, and the most contributive, Clothing textiles –kids wear, sportswear, Muslimah, and modest clothing lines, both local and international.
The collaboration agreed upon by both parties covered the academic partnership and cooperation between Taylor's University and NanoTextile includes the combination of standard design and curriculum that is injected with technological components in both learning experience and module contents.
In his statement at the signing ceremony, Prof. Dr. David said that with the joint venture, the relationship and cooperation between Taylor's and NanoTextile will hope to grow stronger and last longer and will succeed in providing high-impact results to both parties.
Prof. Dr David Executive Dean Faculty of Innovation and Technology, Taylor's University
"This collaboration will showcase and encourage our students, and established fashion designers on bridging Fashion and Science to create more functional and sustainable garments." said Prof. Dr David. This effort is to connect disparate ecosystems working on sustainability — bringing the theory to the industry, where everyone can learn under one roof. Taylor's has been paving way for the fashion scene in Malaysia and they are pleased to be taking their next step towards nurturing sustainability. In July 2022, they joined forces with Kuala Lumpur Fashion Week (KLFW), Life Line Clothing Malaysia Sdn Bhd (LLCM), Fashinfidelity and fashion designer Hatta Dolmat, and featured nearly 60 sustainable garments designed by 24 Fashion Design Technology students.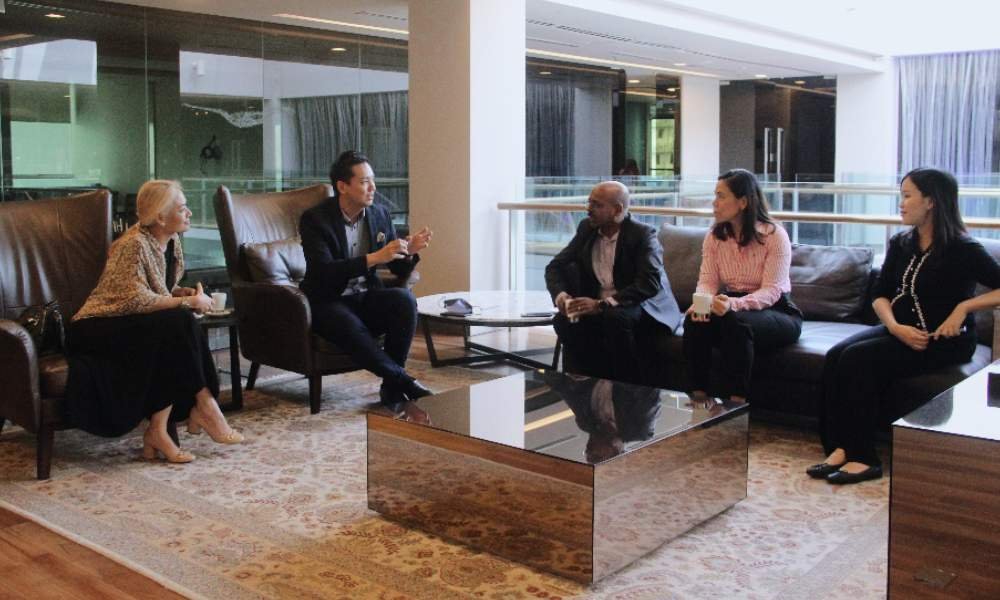 From left; Puan Rasta Rashid, Dr. Thomas, Prof. Dr. David Asirvatham, Ts Dr. Pouline Koh and Ms. Maria.
They firmly believe that the impact would be more than the whole idea of nanotextile360°, a program inspired by the circular model through independent yet interlinked four pillars; Knowledge and Design, Development, Commercialization, and Gallery and Exhibition. This program, curated exclusively by NanoTextile, aims to generate new ways of awareness, maximize impact, and create new initiatives to fill sustainability gaps in society.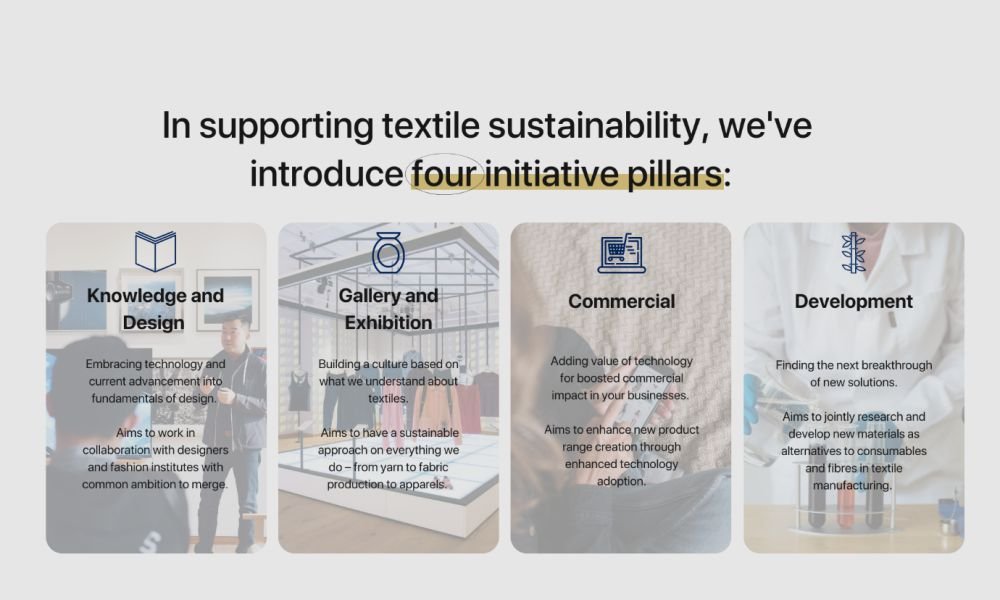 In supporting textile sustainability, NanoTextile had introduced 4 pillars in the program.
Henceforward, this partnership would invite more corporate partners with the same mission through this initiative. They hope this interactive exhibit reaches more people because the entire fashion ecosystem needs to work together – whether any brands, retailers, manufacturers, investors, consumers, and governments.
For more info on their initiatives, visit www.nanotextileinnovation.com .
Article Link: https://www.mirrorreview.com/taylors-university-create-1st-asias-fashion-tech/